20 Sustainable Gifts for Everyone on your List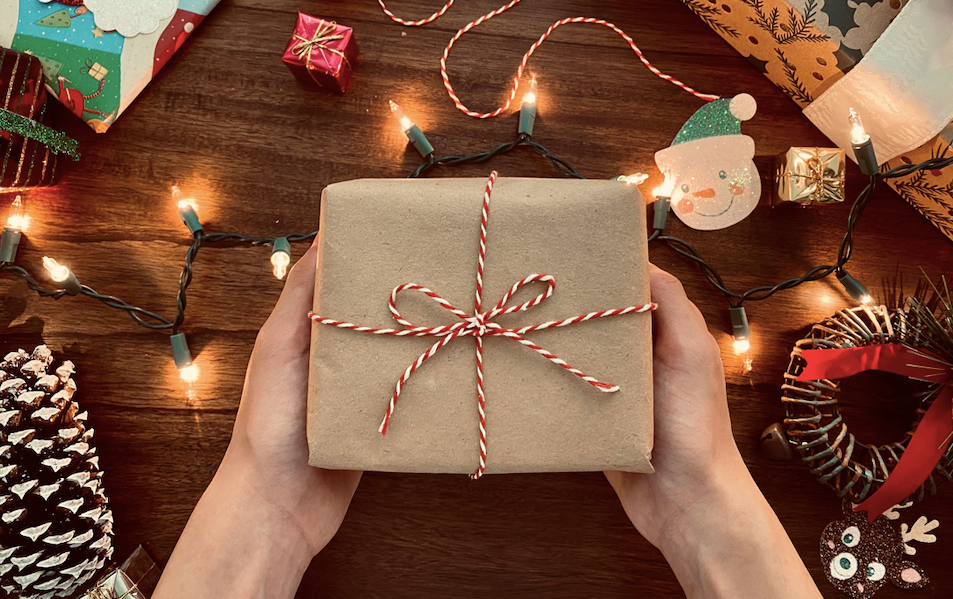 The season of giving is officially upon us. If you're having trouble finding the "perfect" gift for a loved one, check out our list of our top 20 sustainable and unique Christmas gifts for every kind of person in your life!
Eco-friendly grocery shopping has never been so adorable. We can't get enough of these reusable produce bags! Plus, these actually keep your fruits and veggies fresh longer than the single-use plastic bags in the store. Grab these for your veggie-lovin' loved one!
Find them here!
What are the holidays without a couple new pairs of socks, right? Hemp continues to prove to be a reliable and sustainable material for pretty much everything from socks to furniture. Philly-based outdoor retailer, United by Blue, makes a cozy pair of socks out of their signature "SoftHemp" material, made out of stalks of hemp fiber! Also, with every product sold, the company removes one pound of trash from our oceans and waterways, whoo!
Find them here!
For the writer in your life! This journal is not only beautifully unique, but it's made from a durable, waterproof, animal free 'leaf leather' vegan leather alternative. It also comes with a replaceable notepad with 100 pages and a page holder bookmark.
Find it here!
This curated kit of useful dishwashing essentials features a copper scour pad, reclaimed wood soap dish, Swedish dish cloths, bamboo dish brush, and castile dish soap. We believe that when it comes to cleaning dishes, it's crucial that it's done with ecological and toxin-free tools. Many companies rely on harmful chemical cleaning solutions in wasteful plastic bottles to get the job done. If a loved one in your life is ready to transform their dish routine, gifting them with the Castile Zero Waste Dishwashing Kit from EarthHero will get them started right! Handmade in the USA and ships in 100% plastic-free packaging!
Find the kit here!
Treat the chef in the family to more than 100 waste-free recipes! From using lemon zest to infuse vodka to sunflower seeds to add crunch to bread, the options are endless (and so fun!) in waste-free cooking.
P.F. Candle Co.'s products are made in California with 100% soy wax, and the amber jars are great to reuse as catchalls or glasses when the wax is long gone. The company offers several gift sets with scents like amber and moss, sweet grapefruit, teakwood and tobacco, and golden coast. They make it so easy for you to pick the perfect gift for a friend on any occasion!
Find the set here!
This one-of-a-kind baby sling is just what the mama-to-be in your life needs this holiday season! It is made from bamboo and linen that is super soft to the touch, plus, Puravida donates 5% of your purchase to CEPIA, an organization that helps low-income families in Costa Rica. 
Find it here!
We recently came across Girlfriend Collective activewear and now we all have it on our Wish Lists! Their clothing is not only incredibly supportive and comfortable for all body types and activity-levels, but it's also made with polyester constructed from discarded water bottles. Not to mention, when you're ready for something new, you can recycle their products again through the brand's 'ReGirlfriend' program!
The holidays are the perfect time to spread the news and share the Pura love! Is your toddler ready to transition from their nipple to sippy or straw? Is your bestie expecting a new baby? Grab a brand-new Pura bottle or two this season and you'll have yourself the only plastic-free bottle on the market! Plus, our silicone tops are great stocking stuffers. :)
Find your Pura bottle
here
!
No need to dirty plastic containers or throw leftovers out! These light and breathable cloth covers will preserve everything from fruit salad to bread dough. Handmade in Georgia and ready for your or your neighbor's kitchen!
Beautify your home with these coasters woven from natural sisal and sweetgrass fibers and colored with organic dyes; ethically made by artisans in Rwanda. About the design: The sunburst pattern on these coasters is known as the "hope" design. Reflected on the
Rwandan flag
, this sunburst image stands for the country's collective hope for a new dawn and brighter future. This design holds a significant meaning to the weavers Kazi partners with, as each item they sell increases their chances for a better life in their community.

From mouthwash tabs to shampoo bars, by Humankind is always releasing products designed to reduce single-use plastic and we are all about it. The brand's tasteful and gender-neutral formulas are not only attractive but very effective... for everyone! Treat your special someone to their very own sustainable body and beauty products this holiday season! 
Find them here!
This is not your typical yoga mat. Cork mats are made of oak tree bark, which grows back when harvested sustainably. This naturally antimicrobial and durable yoga mat is the perfect gift for the eco-minded yogi in your life!
We've all been spending more time at home these days… so why not make it as comfortable (and ecological) as possible? These ultra-light, comfy, and fully hand-embroidered slippers are handcrafted by artisans in Pakistan using traditional techniques, featuring a cushioned heel for arch support. They are dainty yet durable and able to sustain indoor use all day long! Faire trade, made from 100% recycled cotton, and POC-owned brand.
Find them here!
The perfect at-home matcha latte experience for the matcha-lover in your life. This kit features Golde's Pure Matcha and a bamboo whisk for whipping up the tastiest drink. Add your favorite milk for an instant matcha latte, hot or iced. POC-owned health and wellness brand.
Find the kit here!
Whether you like it or not, scrunchies are back in! So why not wear sustainable scarf scrunchies made entirely from leftover silk scraps?! Cool, right? They are beautiful, trendy, and chic. Not to mention they are made in the USA.
We don't know about you but we are always looking for the world's greatest blanket… especially for our little ones. Well, you don't know what you're missing until you've tried sleeping with a weighted blanket. And we are fans of this sustainable one from Bearaby, made from wood pulp sourced from eucalyptus trees in a responsible and closed-loop process. The blanket is available in three weights in order to provide the perfect "hug" for everyone as they sleep. If you're not sold yet, the weighted blanket also helps to stimulate the production of serotonin (happiness hormone), reduce cortisol (stress hormone) and give an overall sense of ease to help you relax and fall asleep. The perfect gift for your cuddle buddy!
Find the blanket here!
If you (or a loved one) haven't gotten your hands on one of these 100% cotton market bags, they are a MUST. They are airy, ecological, and so timeless. Plus, the stitching makes them surprisingly durable!
Find the bag here!
Transform bath time for you or your kiddo into a soothing aromatherapy ritual with the Rose Bath Soaking Salts from the brand, Well Kept. This all-natural 8oz blend includes ingredients like Epsom salts and Himalayan to relieve pain and soften skin, plus added eucalyptus to heal skin irritation, and rosemary and peppermint to cool and refresh sore and tired muscles. It's packaged in a beautiful and recyclable glass bottle and ships in recycled content and recyclable cardboard. The jar looks amazing in any bathroom!