Kiki™ 11oz Infant Bottle
view product
My son is allergic to plastic, and these bottles saved us.

I want to say THANK YOU! I have an infant son, Jenson, who is almost 6 months old. He has horrible allergies! He was using polypropylene bottles (which is what most are nowadays), but he kept getting these horrible rashes! Because of his age, they couldn't do extensive allergy testing. We were forced to use a different bottle for one day, and the rash got better. It was made of regular plastic. We ended up buying a few bottles which were just plastic and not polypropylene. The rashes were still there, but not as bad for sure! I found these bottles online when I was researching 'hypoallergenic baby bottles'. I was attracted to these because they were not glass! We have not been using these bottles with him for about a week. That is the only change, as his formula and cereal are the same (the cereal is fed from a glass bowl). The diaper rash is completely gone! First time since birth! The rash on his face is so much better. It looks like it's just healing rather than getting ready to redevelop. No other rashes on his body this whole week! The only change is the bottles!! I am ecstatic over these steel bottles!! I don't know if the allergy he has is in the plastics themselves or the enzymes from the foods he's allergic to leaching onto them. Either way, finding Pura bottles has been a blessing in our family!!! So, from the bottom of our hearts, we thank you so much for this product! And, if Jenson were old enough to talk, I'm sure he would thank you all as well!!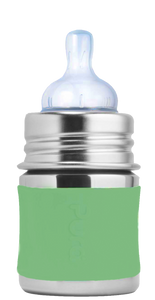 Kiki™ 5oz Infant Bottle
view product
Thank you PuraStainless!

I can honestly say that not only are your bottles the absolute best baby bottles EVER, but by far the greatest baby product I have ever had!

We have three children, and have bought every single type of bottle in existance it seems! Our youngest is currently 3 months old and already very picky, especially when it comes to her bottles! She always seemed to like the wide-neck bottles more, but they were simply too large or heavy for her too hold and she would get frustrated. And she hates the feel of plastic bottles! When we gave her the purastainless bottle for the first time: She smiled when she looked at it, picked it up and started drinking! She was feeling the side of the bottle and would stop drinking just to smile (believe me this is huge, she doesnt stop until its empty!). We have been using them for a few weeks now, and she is still in love with them! And so are we! They are much more convenient than any other bottle we have had, they are easy to clean, I'm not worried about bacteria being left behind, they are easy to heat or cool, and the 5 oz bottles fit almost anywhere.

Thank you so much, you have made our lives so much easier and have certainly helped make one happy baby! If I could afford it, I'd purchase ten more for myself and dozens to give to friends and family! We will certainly be returning customers!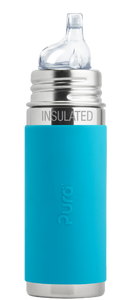 Kiki™ 9oz Insulated Sippy Bottle
view product
I seriously can not say enough good things about this sippy!

I seriously can not say enough good things about this sippy! We have LOVED it! It is the only one that has the perfect flow for my daughter, not too hard to suck like other leak proof cups. It is also quality made and I get SO many compliments on it! We have already used the bottle, straw, and sippy spout with it and all have been great!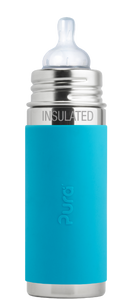 Kiki® 9oz Insulated Infant Bottle
view product
If you're debating this purchase, buy it!

We bought the Pura Kiki Stainless Steel Infant Bottle for our 9 month old daughter. She switched to strictly bottle fed at 7 months and these bottles are a lifesaver. We tried 5 brands of glass bottles before finding Pura Kiki, including Dr. Brown's, Lifefactory, Born, Tommy Tippee and Medela. The glass bottles are heavy, can break when dropped and do not keep the milk/formula cold long enough, especially in hot weather. We were thrilled to discover stainless steel bottles, especially since the nipple is made of food-grade silicone. Unlike the other aforementioned bottles, this means *no plastic parts* in the Pura Kiki bottle! We are committed to limiting our babies exposure to plastic and if you haven't researched it yet, please look into Xenoestrogens and plastic.

BPA's are not the only thing to worry about with plastic and food.(...) we have yet to find a bottle as convenient and safe for our baby as the Pura Kiki Stainless Steel Infant bottle. We will use this bottle for our next baby as well! After many months of trying every glass bottle we could find, we've found a bottle that works for our family. All in all, we are thrilled with Kiki Pura bottles. It's our go-to newborn gift in the four ounce size. if you're debating this purchase, buy it! you won't be disappointed. It's the only bottle we use and I know you will love it too
I'll be your customer for years to come.

Thank you so much for following up with an email and also taking time to discuss your product with me today. I really needed to talk, mom to mom, about this. I was beginning to get rather stressed about the plastic bottles my son has been drinking from and glad I can now move forward with a better product.

I found the bottle at Whole Foods this evening and am thrilled to report that my son LOVED it as soon as I gave it to him. He usually doesn't drink anything with his meal (which has worried me), and tonight happily drank 2 oz milk and 3 oz water. All along I have been concerned that he wasnt drinking alot because he didnt like the bottles/sippy we gave him. SO TRUE. I got the 5oz pura kiki bottle and he loved holding it and a huge plus is that he could still use his Dr Browns nipple that he is familiar with. Looking forward to getting the Pura Sippy Spout to see if he will transition to that.

Thanks again for a great product and quick follow up. I'll be your customer for years to come.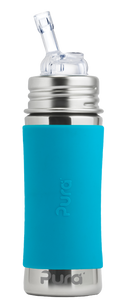 Kiki™ 11oz Straw Bottle
view product
This is my go-to gift for expecting parents.

This is my go-to gift for expecting parents, I lovelovelove these bottles. No plastic chemicals to disrupt baby's hormones, no risk of splitting open if you drop it (you never want to lose breast milk—trust me), plus it's easier to tell how warm/cool the contents inside are. Our bottles are going to be 2 years old soon & they look like they've seen some things—-because they have! Dropped on the daily, they don't have metal fatigue in the bottom and they come out of the dishwasher just fine! (...) they are worth it in so many ways."
These are the best bottles ever!

I love these baby bottles and so does my son! My favorite part is that they are 100% plastic free. My son latches onto them perfectly and has stopped spitting up since using them. The vent seems to work perfectly. The measurement markings are engraved and won't wear off. The nipples are interchangeable with a sippy top, straw top, sport top and sealing disks. These bottles are flawless and designed to last a lifetime! These are the best bottles ever!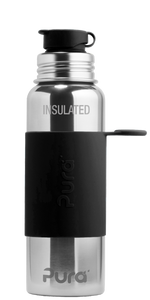 Big Mouth® Sport 22oz Insulated Bottle
view product
Researched again and decided on Pura.

I drink from a water bottle all day, every day. The previous BPA fee plastic bottle would infuse the water with a funny taste after half a day. After some research on the fact that companies often replace the BPA for other, just as toxic, chemicals but still promote "BPA Free", I took the plunge into stainless steel. Researched again on all the pitfalls of aluminum, poor quality stainless, plastic lids verses silicone and [decided on] Pura. Now the water in the Pura container always tastes fresh. The silicone lid does not detract from the flavor and there is no leakage."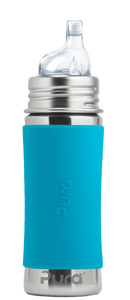 Kiki™ 11oz Sippy Bottle
view product
I feel a ton better knowing that my daughter is drinking out of something safe!

This thing is awesome. I initially purchased some plastic sippy cups made by other brands and although they claimed to be BPA- and pthalate-free, I grew concerned when I noticed that some of the plastic on the spouts had started to flake away. I immediately went on a hunt for plastic-free sippies and found the Pura Kiki mentioned on several "green" sites. I feel a ton better knowing that my daughter is drinking out of something safe! There are no plastic pieces - the bottle and screw top are made of stainless steel and the sleeve, travel cap (yes, a cap - it's amazing how many sippies don't come with one!), and spout are made from silicone. This bottle isn't insulated but the sleeve keeps little hands from becoming chilly.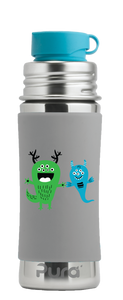 Sport Mini™ 11oz Bottle
view product
Such a great water bottle!

Best stainless steel/plastic free bottle on the market! Such a great water bottle! Doesn't leak (ever!). And I love that it contains no plastic. It is also very easy to clean. There are no areas that you can't get to with a bottle brush. Other stainless steel water bottles have plastic lids with sport top spouts that you can't fully clean. I loved this so much, that I bought one for each of my daughters to bring to school every day, the tiny bottle sized one for their lunches, and a larger one for me!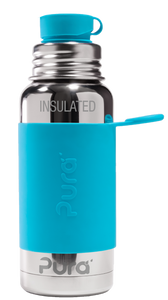 Big Mouth® Sport 16oz Insulated Bottle
view product
The insulation works great and easily keeps ice cubes intact overnight.

(...)you won't pry this one out of my hands. Love the bottle. Looks great, easy to hold (e.g.,can hold bottle with one finger when carrying other things), easy to drink from, and cap is easy to pull off and put back on, even when driving, easy to clean (unlike other bottles that build up gunk in the spout over time that is hard to clean). The [insulation] works great and easily keeps ice cubes intact overnight.
I highly recommend these!

I bought 4 of these, one of nearly each color I think! I wanted a safer option for my kids to drink from, and having already bought 2 of the Pura Kiki straw cups for our 1 year old I trusted the brand. These are great. The silicone sleeve colors are bright and fun and we all know that makes kids more prone to use them and drink their water! They're a generous size and held ice well. My kids especially love the spouts. They're 4 to 14, and all of them said they liked how the spout works. I'm glad I stuck with Pura.

(...) We did the math for our family, every time we stop at a convenience store and buy drinks for our family of 7 we spend $15-$20 on unhealthy drinks. Now we won't spend a dime on drinks on outings and are healthier for it. Once we crunched the numbers it was clear we'd recoup our money in just a few outings. I highly recommend these!
We absolutely LOVE these.

We absolutely LOVE these. We have a lot of the Pura line and they are one of the very few bottles we used with our little one. We did this and glass. And we still use them as we do adult water bottles. It the only bottle on the market with absolutely no plastic as far as I know and that is super fantastic. Was so important to us when ours was little and still is now. We found these insulated ones a bit ago and use them not just for our little one but for us as well. We can fill them up with drinks when we'll be out for half a day or so and they are super useful. (...) These are good everyday bottles and easily manageable for our little one. Truly awesome.
Big Mouth® Sport 28oz Bottle
view product
Perfect for me to get in more fluids w/o getting up as much!

I love this brand as I am able to use the sipper spouts that I have purchased with the 11oz bottles but with a 28oz fluid capacity means that I can consume more fluids (heavily diluted Gatorade made by mixing Gatorade powder and water along with a bit of electrolyte drops which is what my neuro wants me consuming on days that I'm not running IV fluids) without having to refill the bottle as many times during the day/night so that I can get more rest (have many confirmed chronic illnesses, but have a suspected case of cfs/me so I require quite a lot of rest/sleep/down time in order to be able to get the few things that I can still do done).