Halloween 2020: A Guide to Contactless Trick-or-Treating!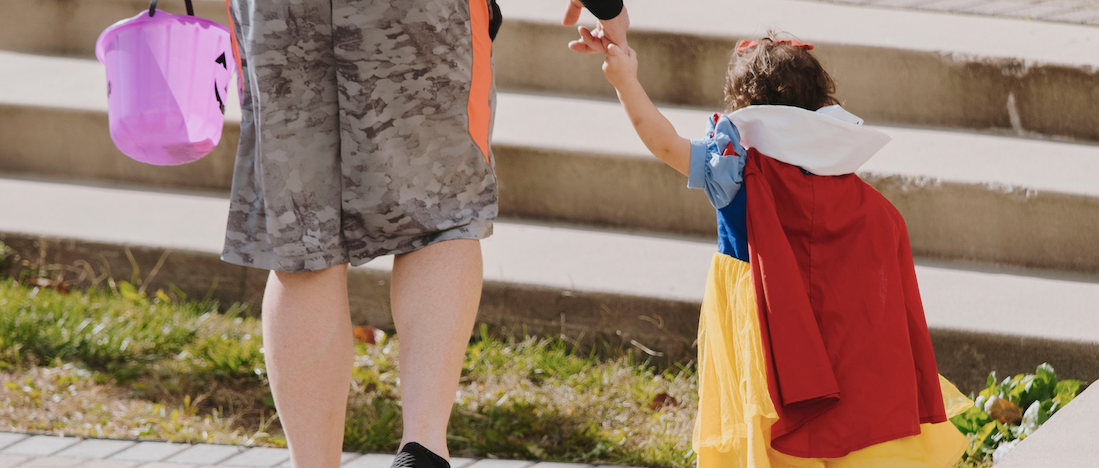 Is Halloween even happening this year?? We don't know if you've asked this question yet but we sure have! The refreshing reality is that the large majority of families are still planning to celebrate Halloween this year. Actually, 2020 could stack up to be the biggest Halloween year in recent history, despite concerns with social distancing. Not to mention, the spooky day lands on a Saturday, so there's no worrying about school the next day. If you're concerned about what October 31st is going to look like and how to best prepare for an enjoyable and safe Halloween, let us help!
*This guide comes secondary to your local state and county guidelines for celebrating Halloween. For up-to-date information, please visit the CDC website.
A Guide to a Contactless Halloween
Pick your Child's Costume Wisely
Halloween wouldn't be Halloween without costumes, right? Whether you decide to take a walk around the 'hood or not, there's no better way to wear a face covering this Halloween than incorporating it into your skeleton, ghost, or princess costume. You can keep it simple by sticking to a color scheme or go all out with embellishments and embroidery. Whatever the costume, a matching mask is an easy and creative way to spruce up the costume while staying safe.
If you decide to try contactless trick-or-treating, adding gloves to match your child's costume is an extra and easy way for them to stay safe while grabbing for their individually-wrapped Halloween candy!
Strategically Place your Halloween Treats
If your favorite part of Halloween is seeing all of the creative and spooky costumes at your front door, this year will look a little differently. Nonetheless, there's no reason why you still can't admire and have a good laugh at all the costumes passing by your home. Grab your comfiest lawn chair, set yourself up at least six feet away from your sweet treats, and wave to every passerby!
Try scattering your candy across your front lawn or driveway to avoid multiple tiny hands reaching for the same candies all night. 
Decorate your Yard
If any year is the year to go all out, it's 2020! "Spook up" your house with spider webs and a graveyard that extends far beyond your front door so that families and kids walking by can still enjoy your festive scene!
Halloween Movie Night with your "Quaran-team"
Lastly, if you're thinking the family might spend Halloween night "in" this year, gather everyone together for a Movie Night! Let everyone pick out their favorite spooky snack and vote on the movie (or two) of the night. This is a great way to stay festive and still have fun on Halloween without going trick-or-treating. And who says you still can't dress up?!
However you decide to spend Halloween with your little ones this year, it will definitely be a Halloween unlike any other. Memorable and fun, nonetheless! We hope that whatever you do, that you have a safe and spooky October 31st!