10 Tips to Optimize Distance Learning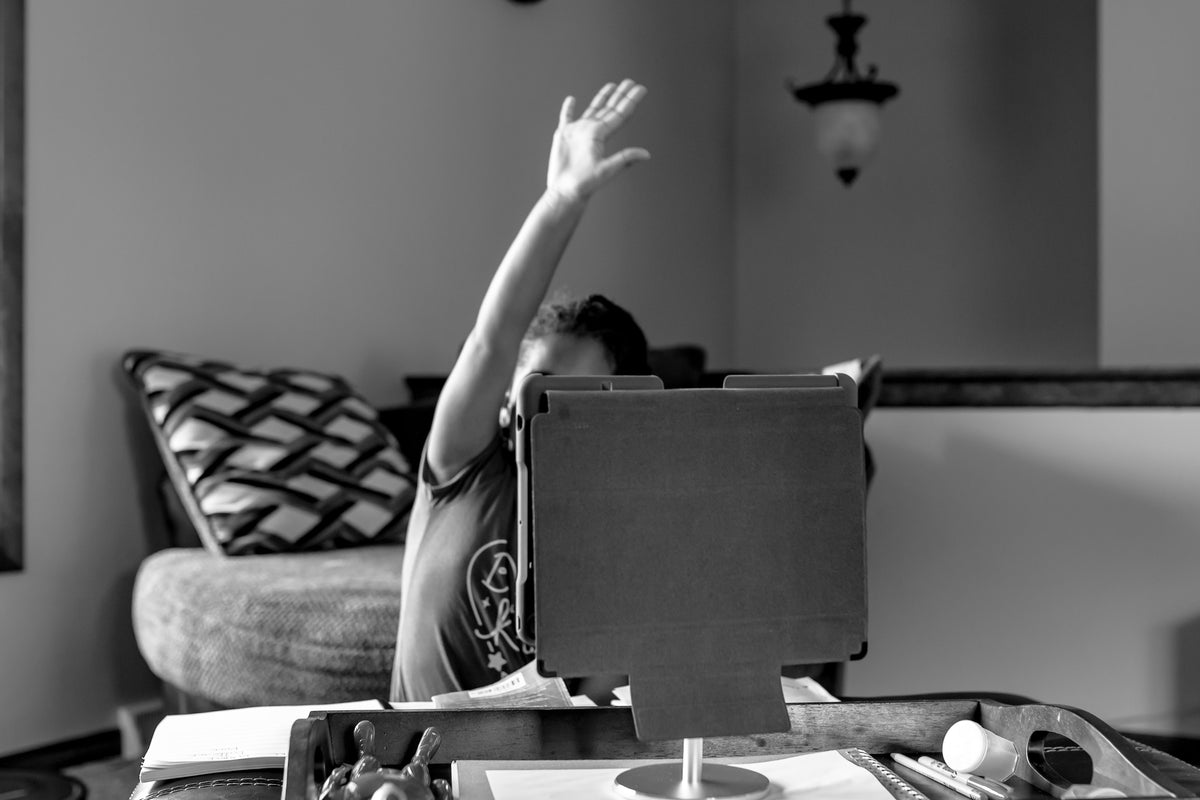 Distance learning has thrown all of us for a loop. Our kids included! If your family is anything like ours, life already felt like a balancing act before we heard the word "coronavirus." Over the last year, our family had to develop a trial-and-error game plan in order to keep our little ones on track and motivated. If you're struggling with your game plan, you are not alone. Try a few or all of these 10 tips to keep your child engaged and encouraged while learning from home!
1. Establish routines and clear expectations
It's not too late to develop good habits with distance learning. Create a flexible routine to find what is best for your family and see how it's working over time until you get into a "rhythm" that's optimal for your little ones. Chunk the days into predictable segments! For example, help your kids get up, get dressed, eat breakfast, and make their bed as if they're heading out for school! Keeping a normal bedtime routine will help them be able to hold onto some kind of normalcy in their lives. It is tempting to be lenient with digital devices at night but it's important to maintain healthy habits especially after a full day of looking at a screen.
2. Choose a good place to learn
Location, location, location! The kitchen table is probably not the most optimal space for your child to attend class, especially with the constant hustle and bustle through the kitchen and people coming in and out. It is best to intentionally set up a physical location somewhere in the house dedicated to school-focused activities. It should be quiet, free from distractions, stocked with supplies, and have good internet connection. Plus, extra space for jumping jacks and lunges for their online P.E. class. 😊 Ideally, an adult should be able to pop in to monitor throughout the day, so keeping the door open will be best.
3. Help your child "own" his/her learning
As a parent, you are NOT expected to become full-time teachers and experts in Geography and Algebra 2 overnight. It will take a few weeks! Just kidding… But, providing support and encouragement will make a significant difference for your child as they learn to do their part and take ownership over their learning. Struggling is allowed and even encouraged! That's what helps our kids grow. Your child's teachers and school faculty are doing their best to facilitate class participation in order to further your child's confidence to speak up in class and stay engaged. Don't help too much and let your kids practice independence.
4. Begin and end the day by checking in
Maintaining daily "check-ins" allows your child to be more reflective and thoughtful with their approach to learning. These brief conversations matter as not all students thrive in distance learning. The ambiguity that can come with a lack of structure leads to challenges and frustrations; giving your child space to voice their feelings will help tomorrow feel like a better day to try again!
In the mornings, you might ask:
What classes do you have today/ What are you looking forward to today?
Is there anything you need from me?
How can you show your teacher(s) kindness today?
At the end of the day, you might ask:
Highs and lows of the day?
What is something new that you learned? What was hard to understand?
Did anything fun/funny happen during class?!
5. Establish "quiet times"
It is likely that your family is just like ours – everyone working and learning from home… At the same time! It can get chaotic, noisy, and overwhelming. For families with children of different ages, it's good to build in time for peace and quiet for you and your kiddos. Siblings may need to work in different rooms to have some peace and quiet and it might be time for mom and dad to invest in noise-cancelling headphones. Start with choosing one day out of the week for a couple hours of after-school "quiet time" for individual reading, resting, puzzling, going for a walk, etc. and perhaps add a second day and see how this improves the family morale.
6. Encourage physical activity and exercise
We were joking earlier about your child's online P.E. class… But they could very well have one and if so, that is AWESOME! Moving is vital to our health and to your child's attentiveness to learning. Setting new goals for physical exercise will have lasting effects on your entire family's positivity and emotional well-being. Anything that keeps the hands busy, feet moving, and minds engaged is a win. It could be as simple as asking the kids to start pitching in with more active chores around the house or going for a hike as a family every Friday. Maybe lunch-time yoga or aerobics? You know your kids best and what kinds of activities will keep them happy and healthy!
7. Monitor time on-screen
Your children's teachers are likely doing their best to build variety within their online learning sessions, considering it isn't beneficial for anyone to sit and stare at a computer screen for seven to eight hours a day. Work with your kids to find ways to prevent "down time" or your "quiet time" from becoming more time spent on a screen.
8. Connect safely with friends and neighbors
Birthday parties and play dates have taken a major shift over the past year. We've done our best to help our kids maintain friendships (and keep up with our own too!) but life just looks different, making this a challenge. Plus, every family has its own parameters to "hanging out" and the boundaries they set.
Continuing some level of in-person connection, even if it is socially distanced, is helpful for your child's happiness "in the time of COVID." Plus, it is refreshing to see friends' faces in "real life" as opposed to Zoom or social media. Putting our best foot forward to provide opportunities for physical and social engagement will have lasting effects on our little ones' growth!
9. Check in with your child's teachers
Teachers and advisors are usually more than willing to connect with parents via email or phone after school, now more than ever! Check in if your child is having difficulty managing the online learning platform or staying on task. Be on the lookout for any communication from teachers indicating that they are having trouble connecting with your child during this time.
10. Stay as positive as you can
You've got all this, right? Right… For many of us, life already felt like a juggling act before we heard the term "coronavirus." Some days feel heavier and harder than others. Regardless, the most beneficial thing we can do is stay positive for our kids. Children look to their parents to figure out how to react to new or intimidating situations.
Help make their work meaningful by playing to their strengths, encouraging a growth mindset, focusing on relationships, and staying as positive about distance learning as you can! If you are enthusiastic about your child's online teacher and the things they can learn, then they'll be more likely to be excited. A more excited student is a more motivated one!