The Best Healthy Frozen Treats for Summer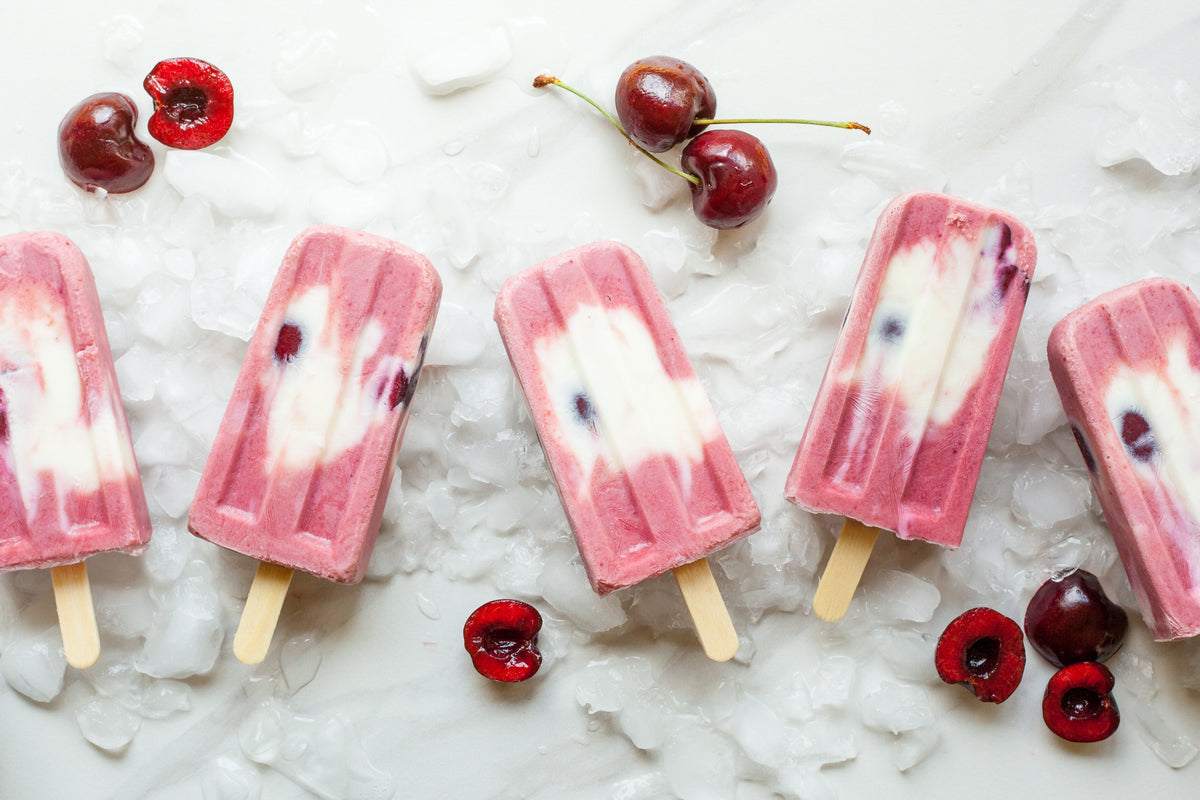 Believe it or not, summer is just around the corner (wooh!). This means no school, more playdates, and the need to get a bit more creative with snack time. With the warmer weather, there's nothing like cooling off with a frozen treat! Skip the added sugar with these simple and delicious frozen desserts that are perfect for summer!
The Best Healthy Frozen Treats for Summer
Coconut Peach Popsicles
The perfect summer treat on a hot day!
Ingredients
1 ripe peach

1 6oz container vanilla coconut milk yogurt

¼ cup water

Fresh basil or mint, optional
Directions
Cut the peach into quarters, and discard the pit
Add all of the ingredients to a blender. Blend until smooth and pour into popsicle molds to freeze
Freeze for 3 to 4 hours before serving.
Sign us up for chocolate-covered-anything! Pop these babies in the freezer and you're set for a mid-day snack.
Ingredients
4 large bananas, peeled and cut in half
8 popsicle sticks
1 pound chocolate chips of choice (we like bittersweet or white chocolate if you want variety)
2 TSP coconut oil
Toppings of your choice! Sprinkles, nuts, crushed cookies, etc.
Directions
Stick a popsicle stick up into the center of each banana half (do not poke it all the way through the other side). Lay the bananas on sticks on a baking sheet lined with paper and freeze until solid.
In a large bowl add the chocolate chips and coconut oil. Heat in the microwave for 45 seconds, stir well, then continue heating in 15-second increments, stirring very well after each, until fully melted.
Dip the frozen banana halves in the chocolate and coat completely. Working quickly, sprinkle with your desired toppings (the chocolate will begin to harden pretty quickly). Place back on the lined baking sheet and freeze until solid.
Serve frozen for a delicious, cold treat!
So simple but SO good! Don't skip this recipe, trust us.
Ingredients
8 medium-sized kiwis, peeled
4 TBSP honey
1 TBSP lemon juice
4 TBSP coconut milk
Directions
Peel and slice kiwis and place them flat on a tray. Freeze for 1 hour
Once frozen, add to a food processor with remaining ingredients: honey, lemon juice, and coconut milk. Blend until smooth and creamy.
Serve immediately, or pour into a shallow container and freeze for later!
A refreshing, naturally sweet summer treat. Strawberries, watermelon, kiwi, oh my!
Ingredients
1 medium-sized lime
1 medium-sized kiwi
2 C watermelon
1 C strawberries
Directions
Juice and zest the lime. Peek the kiwi. Dice the watermelon and hull and slice the strawberries.
Place all ingredients in a blender and puree until completely smooth.
Pour mixture into silicone Popsicle molds
Freeze for at least 3-4 hours, or until solid.
Re-purpose the Greek yogurt in your fridge to create the yummiest frozen treats for your little ones. Oh, you'll be eating them too!
Ingredients
8 oz semisweet chocolate chips
1 ½ C milk (your choice: 1%, 2%, almond, etc.)
⅓ C unsweetened cocoa powder
2 TBSP sugar (we like to use brown or coconut palm sugar)
1 TSP vanilla
Kosher salt
1 C Greek yogurt
Directions
Put the chocolate chips in a medium glass mixing bowl. Set aside.
Combine the milk, cocoa powder, sugar, vanilla, and ¼ TSP salt in a medium saucepan over medium heat. Whisk constantly until the cocoa is dissolved and the mixture comes to a slight simmer, 5-7 minutes. Remove from the heat and pour the milk mixture over the chocolate chips. Let stand for about 5 minutes, then whisk gently until all the chocolate is melted. Whisk in the yogurt until smooth and blended, then cool completely.
Divide the mixture evenly among eight silicone Popsicle molds (about ⅓ C per pop) and freeze until solid, at least 5 hours. Just before serving, briefly run the molds under hot water to release the pops. They will keep up to a month!