Which Flow Rate is Right for My Baby?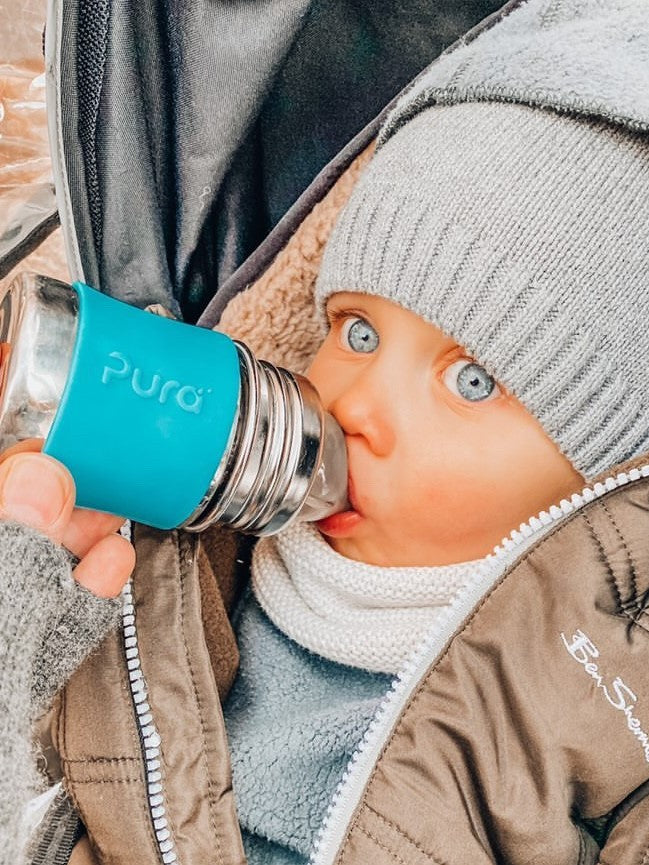 After exclusively breast feeding your newborn for a couple of months, you start fantasizing about sleeping through the night again… at least once! Then you ask yourself, "Where did I put those bottles?!" A few months back, you had purchased the cutest 5oz bottles from Pura Stainless, or perhaps received them as a shower gift. You washed them, read the instructions (or not), then stored them in the closet of Baby's room. Now, how to get started?
Here are a few helpful tips when feeding infants with Pura bottles and Natural Vent Nipples™
Tips and Tricks
Do not over-tighten the stainless-steel collar. The base of the nipple serves as the "gasket" between the metal collar and metal bottle. This prevents leaking. However, over-tightening will compress the silicone and can affect the venting system. When assembling the bottle, stop threading the collar at the point where you feel it start to tighten.
For proper venting, the "Pura" logo on the silicone nipple should be down by your child's chin. This will put the vent in the right position. If you look down while feeding your baby, you should NOT be able to see the Pura logo on the nipple. If you can see it, then give the bottle a 180-degree turn.
Flow Rate

The age range listed for each flow rate is a suggestion. Every child is different. For example, a preemie that hasn't developed a strong suck may need a slightly faster flow rate than the Slow Flow (0m-3m) because you do not want him or her to work too hard. Preemies need to sleep a lot but not during feeding! In contrast, a bigger baby may need a slower flow rate so that he or she doesn't suck in too much milk with those powerful orofacial muscles and gag. There are four different flow options to choose from – experiment with different flow rates to find what works best for your little one!
If it takes your child longer than usual to feed using the bottle, then it is likely you may need to use a faster flow rate nipple. Pura silicone infant nipples are a bit slower than most other leading brands.
Y Cut – The "Y Cut" nipple has a cut in the top that looks like the letter 'Y.' This type of cut will open more when the child sucks harder. This is also a good nipple for thick liquids.
If the nipple collapses down in to the bottle then it is likely you are ready for the next flow rate nipple. This assumes you have the bottle in the correct position for proper venting (see the second tip).
Pumping for a feeding later that day? Try pumping directly into the Pura bottle. The fit may not be perfect, but you avoid washing two sets of bottles or wasting plastic with storage bags. The Pura Kiki

®

Silicone Sealing Disk will seal the bottle air tight!
Store milk in a silicone ice cube tray. Square milk cubes fit nicely through the opening of Pura 5oz and 11oz bottles. Drop a few into your bottle then pop it in your electric bottle warmer. The cubes will thaw quickly!