8 of the Best Hidden Vegetable Recipes for Kids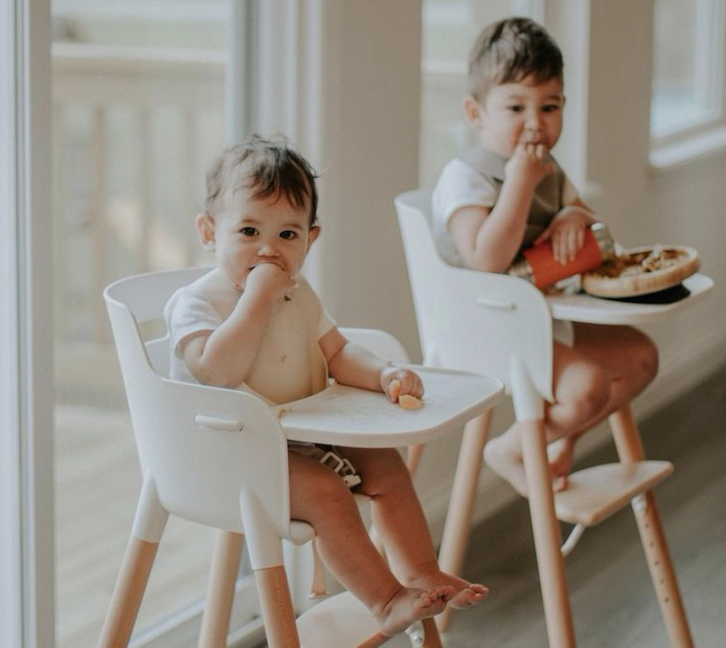 It's no secret that sometimes, it takes a village to get our kids to eat their veggies. Whether it's the color or the texture, veggies have a bad rap in the minds of toddlers! But that doesn't stop us from getting in their greens…
If you're having trouble getting your child to eat their veggies, we're here to help. We put together some of our all-time favorite recipes that are sure to win your little ones over! These meals are not only delicious (yes, you'll eat them yourself!) but they mask the veggies inside so that your kids will never know. They'll be coming back for seconds, trust us!
8 of the Best Hidden Vegetable Recipes for Kids
We can all agree that Alfredo sauce is the ultimate comfort food, right?! But it's not always the healthiest option for us or our kiddos. This simple, flavorful, and lightened up version of the classic Alfredo sauce is packed with nutrients! With roasted butternut squash, garlic, and fresh basil, it'll make your entire kitchen smell as delicious as it tastes! Too good to be true? See for yourself.
Find the recipe by Babaganosh here!
We don't know about you but if our toddlers could have their way, they would have chicken nuggets for breakfast, lunch, and dinner for a month straight and be happy. The obsession got so severe that it got us thinking… how we can we make our own chicken nuggets, with a little more nutritional value?! That way, our kiddos are happy and we're happy. It's a win win. We came across this Sweet Potato Chicken Nugget recipe and it works like magic! With great protein from the ground chicken and loads of Vitamins A and C from the sweet potatoes, you can't pass it up. Also, you'll discover the extra secret ingredient in these nuggets that make them extra crispy!


No toddler (or any adult we know) can say no to chocolate. So why not add some veggies and call it a balanced meal?! These muffins not only taste AMAZING, but they are naturally sweetened with banana and honey, so you don't have to worry about your little ones having too much sugar. Not to mention, you can't even taste the zucchini… so it will be our little secret. Try this insanely delicious and moist muffin recipe and your family will gobble them up in seconds! 
Soup can be a challenging food for toddlers to eat. It makes sense… it typically has lots of different textures and floating bits that even we sometimes can't identify. Plus, there are usually way too many veggies floating around for any kid to want to dive right in. This soup recipe is easy for picky toddlers to eat because it doesn't have any mysterious vegetables floating around, yet is still yummy and healthy. Let your child pick out their favorite shaped pasta and give it a go!


The options are endless with these snack bites. They'll feel like a treat for your toddlers even though they're still packed with protein and nutrients! In addition to the 5 ingredients, feel free to add flax seeds, raisins, or coconut (amongst many other ingredients) for an even more nutritious snack! These are the best after-school treats that can be stored in the fridge or freezer.
Peanut butter + chocolate = perfection. 
This easy Spaghetti Bolognese recipe is a quick midweek meal for the entire family. It's freezer friendly and you can use it to stuff shells, in baked potatoes or lasagna, or a sauce for your favorite pasta! It's rich, meaty, and packed with hidden veggies, though the red color of the sauce masks it all for your kiddos. Can it get any better than that??
Another spotlight for sweet potatoes. We can't help it, they're just too good! These delicious, oven-baked Sweet Potato Quinoa Bites are the perfect snack or main meal for toddlers. They're mess and oil-FREE and filled with extra nutrition from the quinoa. You can serve these babies warm, cold, with hummus, ranch, or chopped up veggies… the options are endless. However you serve them, your little ones will surely gobble them up.
Pro Tip: Make a big batch and pop the leftovers into the freezer for next time.


If Alfredo sauce is the ultimate comfort food, then Mac and Cheese is a close second. And if you've never made Mac and Cheese in a slow cooker, now's the perfect time to try! Yes, there is something about boxed Mac and Cheese that just warms our hearts, but if you're looking to add more veggies to your kids' meals, this recipe is the way to go. It's so easy and even incorporates minced cauliflower, which becomes soft and covered with cheese by the end so no one will know! We give it a 10/10.